Footprints Summer Fest 23
July 28th-30th 2023
European Tap Dance Festival
Welcome to Footprints Summer Fest.
From July 28th to 30th Studio Footprints hosts its European Tap Dance Festival, offering workshops with world class teachers, Jam Session and lecture demo.

Featured Artists this year are:
Andrea Alvergue, Nikolai Kemeney, Sandra Kluge & Thomas Marek


Friday July 28th: Welcome Party at Studio Footprints

Saturday July 29th: Full day of tap workshops & Jam Session in the evening
Sunday July 30th: Full day of tap workshops

All workshops are taught at Studio Footprints. Stresemannstraße 374 B, 22769 Hamburg.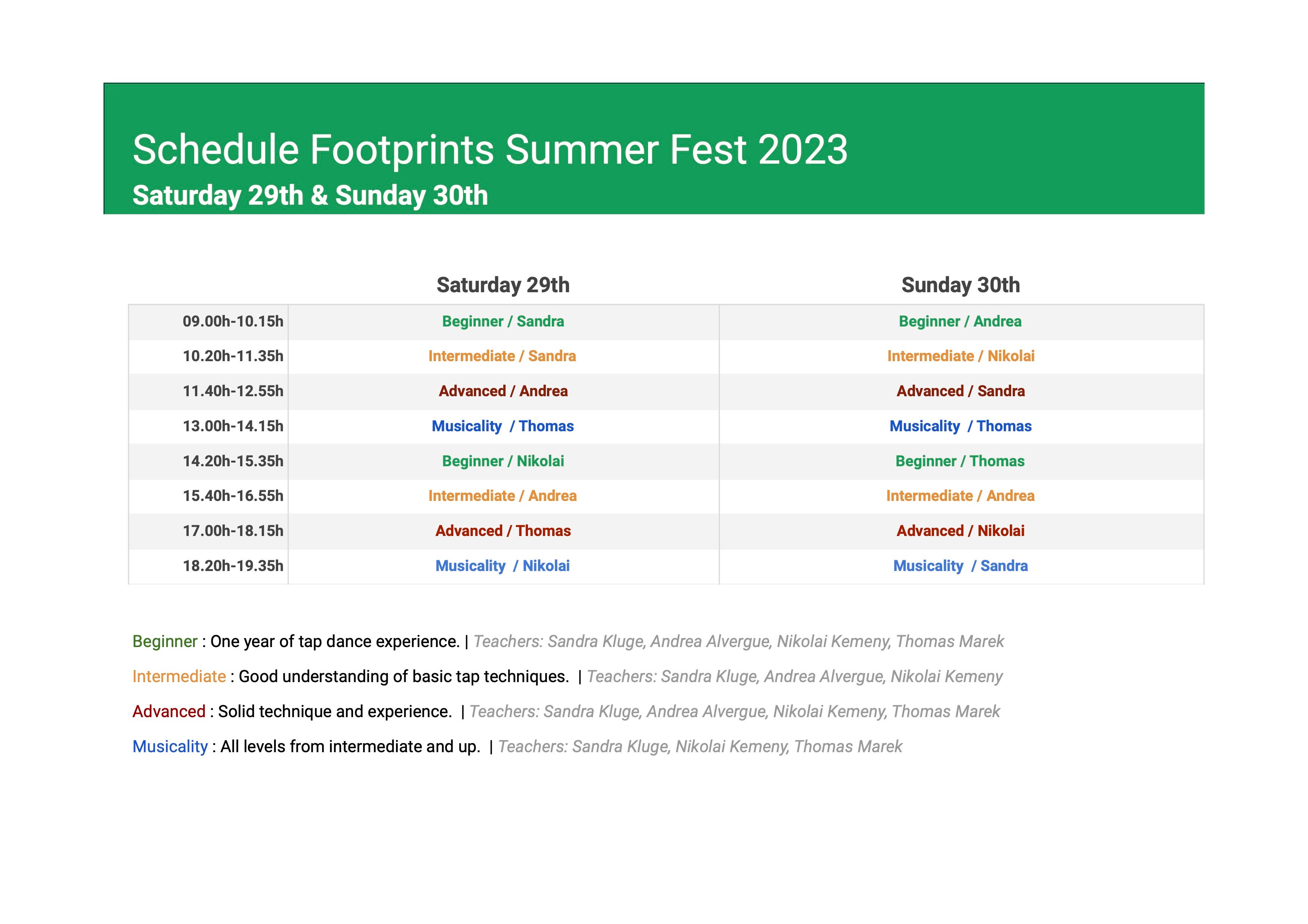 Sandra Kluge (New York)
Sandra is a Tap Percussionist born in Bremen (Germany), based in Brooklyn (NY), and performing and teaching internationally.

She writes, records, and performs her own original music, in which Tap is the exclusive percussive instrument, both solo and with a band. Sandra is deconstructing the classic Tap vocabulary in order to be a full band member, rather than just the cherry on top.
Nikolai Kemeny (Leipzig)
As a modern hoofer, Nikolai Kemeny unites the worlds of rhythm and movement.

As a choreographer, and soloist, he regularly produces and performs concerts, shows, and films.
In addition, he tours internationally with Andrea Alvergue and their collaborative jazz tap concert series, Blue Taps. Nikolai is a founding member of the Sebastian Weber Dance Company


Andrea Alvergue (Leipzig)
As a contemporary tap dancer, Andrea combines rhythm and movement to explore new expressive possibilities. Originally from El Salvador, she completed her professional training in classical ballet in Honduras under the Royal Academy of Dance system, in contemporary dance with Ballet Creole in Canada, and in tap dance with Onemoretap in Spain.
Since 2017 she is a founding member of Sebastian Weber Dance Company.
Thomas Marek (Vienna)
As a tap artist Thomas Marek has been combining traditional and modern forms of tap dance with contemporary musical and theatrical elements for over 30 years.

Deeply rooted in jazz, Marek experiments with the possibilities of sound, phrasing, touch and tone. He discovers new forms of expression that tie in with the origins of tap and draw on his own cultural context – revealing new stories.
Fee for each course (5 hours) : € 150.-
If you book more than one workshop, each additional course is €130.-
To register for the workshop, please send an email to : info@footprints-hamburg.de
and transfer the workshop fees to the following account.
Thomas Marek
IBAN: DE 74 20050550 1268 138482
BIC: HASPDEHHXXX
Cancellations can be made 4 weeks prior to the course commencement date and no later.
If serious illness occurs inside 4 weeks prior to the course commencement date, a 50% cancellation fee applies. All other cancellations will be non refundable.

I acknowledge responsibility for my own health and safety, and understand that whilst the teaching staff will take all necessary precautions to ensure I am not hurt or injured during the program, my safety is ultimately my own responsibility.
I understand that by participating in this workshop I will be engaging in physical activity in the form of dance practice, and in attending I am acknowledging that I am of an appropriate level of health to do so.